The Victorian Period: Innovation, Revolution & The Jewellery That Defined An Era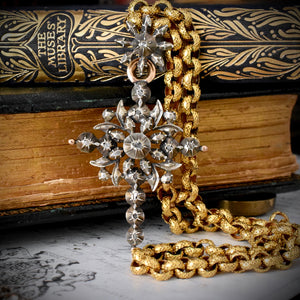 Antique Early Victorian Belgian 'Flemish' Diamond Cross Circa 1850
Antique Late Victorian / Art Nouveau 14ct Rose Gold Rare Triple Snake Ring

As the name suggests, the Victorian era was the period during the reign of Queen Victoria from the 20th of June 1837 to her death on the 22nd of January 1901.  This period was renowned for innovation, political reform and social change. The worlds first Industrial Revolution catapulted steam power and mechanised production, the rise of factories across Britain made way for a growth in demand both locally and internationally and a rapid urbanisation brought significant changes to social constructs.  The first telephone and telegraph revolutionised long-distance communication, transforming business and social relationships.
Ideologically, the Victoria era initiated a shift from rationalism that defined the Georgian period replacing it with romanticism and even mysticism in terms of religion, social values and art. These movements were influential to the jewellery design and trends throughout this era with the transition of style heavily influenced by Queen Victoria herself. For this reason, Victorian jewellery can be divided into three distinct periods; The Romantic period, the Grand period, and the Aesthetic period, each defined by key features.
The Romantic period (1837-1861).

As the name suggests, this period was defined by romance, influenced largely by the love between Queen Victoria and Prince Albert. In 1839, the two were engaged (as Victoria was Queen, Prince Albert was unable to propose to her, she 'proposed' to him!). Despite this, Prince Albert still presented Queen Victoria with a gorgeous engagement ring; a serpent incrusted with small rubies, diamonds and an emerald (her birthstone).  Naturally, this style became incredibly popular, influencing the jewellery design of the period.  The romantic feel during this period inspired jewellers to tell stories through their work, often jewellery was created with a symbolic meaning in mind and incorporated motifs such a flowers, hearts, bows and birds.  In terms of materials used, gold of course was the metal of choice while stones such as diamonds, amethysts, emeralds, quartz, onyx, agate, coral and tortoiseshell. Seed pearls and ivory were extensively used.


Antique Victorian Salmon Coral And Pinchbeck Cross Circa 1870

The Grand period (1861-1885)

This period was marked by the unfortunate passing of Prince Albert in 1861 due to Typhoid Fever and such began the period of mourning. Queen Victoria retreated from public for a long period of time and would wear jewellery that reflected this. Jewellery was darker, light coloured stones were replaced with onyx and deep garnets. Mourning jewellery sybmolised the importance of womanhood, importantly how women must continue to represent their husbands even while in deep mourning. 



In Memory Mourning Brooch (personal collection)

Queen Victoria enforced a period of mourning upon the court, thus in acting a ritual of mourning that applied to grievers from the day of the persons passing until at least one year after. During this time, grievers were not permitted to wear shiny or reflective material and were to be entirely dressed in black. Wearing mourning jewellery symbolised a strong connection between a beloved and the deceased. Personalised jewellery during this period included displaying the initials or names of the deceased and their date of death engraved into the jewellery. Hair jewellery became increasingly admired during the 1850s and was at the height of its popularity after the passing of Prince Albert. 

Forming part of the relic culture, the practice of using hair as mourning jewellery created a deep emotional connection with those who had passed and was commonly used for bracelets, earrings, rings, brooches and watch chains. Hair jewellery was also reserved for use in sentimental jewellery; exchanged between friends or loved ones as a symbol of love or friendship.

The Aesthetic period (1885-1901).

This period was influential for a number of reasons. It signified the end of Queen Victoria's mourning period and ushered in distinct societal changes most importantly the integral role women had begun to play in the workforce. New freedoms were enjoyed by many, the entertainment industry was booming and technological advancements notably electricity created thriving industries.

The most noticeable changes to jewellery design was the advent of machine produced pieces, fitting with the revolutionary period. Jewellery design also moved away from the heavy pieces made popular during the Grand period making way for lighter and smaller pieces that complimented the changing lifestyles.  Women were much more active and as such, jewellery was designed to be delicate with a return of the romantic style and soft, natural colours.  Materials such as Amethysts, Emeralds and Opals were popular choices and motifs including butterflies and roses were inspiration for many designs. In terms of metals used, gold, rolled gold, silver, oxidised silver and platinum were typically used.

Cutting styles for gems during the Aesthetic period included Rose Cut (round shape with a domed top and flat bottom), Old Mine Cut (rounded square shape with many facets. Closely resembles today's modern round brilliant), Old European Cut (precursor to today's modern brilliant but clunkier) and Cabochon (rounded top and flat bottom).   

Popular items during the Aesthetic period also included Mizpah jewellery, a Hebrew word meaning "the Lord watch between me and thee while we are absent one from another." Rings, pendants and brooches featured this word (often in raised lettering) which is as popular today as is was back then! Collar style necklaces or book chains as they are also referred were very popular during this period.


Exceptional Antique 9ct Mizpah Seed Pearl Garnet Doublet Pendant Circa 1900 (NFS)

The Aesthetic period and Victorian era concluded with the passing of Queen Victoria in 1901, however, jewellery from this period is as highly regarded and sought after today as it was 183 years ago! The Victorian period will forever be known for its ingenuity, progress and of course a diverse range of innovations both technologically and socially.


Antique 1899 Victorian Sterling Silver Love Token Inscribed 'Arthur'


Antique Victorian Whitby Jet Mourning Brooch Circa 1870


Victorian Carved Whitby Jet Drop Earrings Circa 1880


https://www.larsenjewellery.com.au/blog/the-victorian-era

https://www.gemsociety.org/article/victorian-period-jewelry-1837-1860/

https://www.gemsociety.org/article/victorian-period-1885-1901-late-period/

https://diamondfoundry.com/blogs/the-foundry-journal/jewelry-in-the-victorian-era