The Serpent; History, Symbolism & Attraction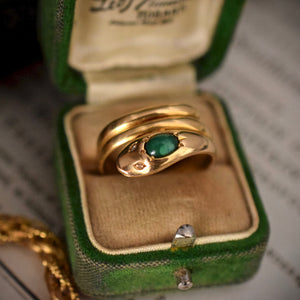 Serpents are one of the most ancient and pervasive of mythological symbols, its meaning diverse across a variety of cultures. From ancient Egypt the god Atum creator and 'finisher' of the world was depicted as a snake. It was said that when the world was destroyed he would revert to his original snake form, thus associating serpents with rebirth and eternity.  Other symbolisms include good and evil, fertility, poison and death. 


Personal Collection
In America, the symbol for medicine is the rod of Asclepius, the god of medicine. In this instance the shedding of snake skin symbolises healing and 'a fresh start'.  In Chinese mythology the snake is often portrayed as a larger than life creature, not the typical snake as we know them.  The snake features in the Chinese Zodiac depicting wisdom and philosophy. It was believed that snakes were able to prolong a life and were closely associated with the gods.


It was during the early Victorian period that the use of snakes in jewellery become increasingly popular, largely attributed to the engagement of Prince Albert and Queen Victoria. The ring presented to Victoria was an image of a snake set with an emerald head (said to be Queen Victoria's birthstone), small rubies and diamonds. For many Victorians, the snake was represented eternal love and a 'happily ever after'. Snake jewellery continued to set traditions, featuring as necklaces, rings, bracelets and brooches.
Georgian Ouroboros (sold)

Great jewellery houses including Cartier and Bulgari created stunning and incredibly intricate snake jewels during the 20th century. In 1968, Cartier created the most famous snake necklace for Mexican actress Maria Felix, constructed in platinum and set with 2473 diamonds, total weight 178.21 carats!! The underside was enamelled in red, green and black and was reversible. Cartier took two years to make the 22 inch long serpent. Maria Felix was known to wear snake jewellery throughout her adult life, identifying with snakes for the symbolism of creativity, wisdom and strength represented.
Maria Felix holding her Cartier snake necklace (Photo via Harper's Bazaar Mexico)
Ouroboros

An ouroboros is an ancient symbol of a snake biting its own tail. Originating in ancient Egyptian iconography, the ouroboros entered western tradition via Greek magical tradition and was adopted as a symbol in Gnosticism and Hermeticism and most notably in alchemy.


The ouroboros represents infinity and the circular nature of life.


There is no denying the popularity of snake jewellery with many collectors vying for a piece of history or taking advantage of the gorgeous contemporary pieces inspired by yesteryear. We have been fortunate to have had some stunning antique snake pieces in our collection, both on offer and personal collection. 


https://www.acsilver.co.uk/acsnews/2014/01/16/victorian-snake-jewellery/


http://www.thejewelleryeditor.com/jewellery/vintage/article/antique-snake-jewellery-bulgari-cartier/