The Edwardian Period: Optimism, Innovation & The Jewellery That Defined An Era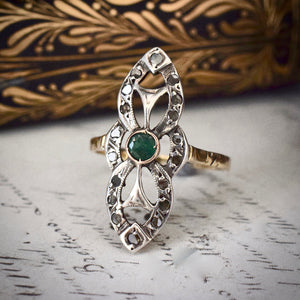 Inspired by our recent acquisition, the incredibly popular Edwardian Wide Floral 9ct Yellow Gold wedder/band (since found its forever home), comes this weeks blog post- the Edwardian Period.


Antique Edwardian Wide Floral 9ct Yellow Gold Wedder/Band
(Sold)

The Edwardian period (1901-1910) spanned the reign of King Edward VII (Queen Victoria's son) and is sometimes extended to the First World War (1914). Edward VII was already a leader of the fashionable elite, setting a style influenced by art and fashion of continental Europe. This period also marked the final era to be named after a reigning monarch.
Major societal shifts echoed this new era; child labour was considered an offence; education became mandatory for children. Status and lifestyle of the elite was increasingly evident, marking the Edwardian era as one of the most opulent. Women were gaining a voice so to were the working classes. Trade union movements and public education marked the beginning of an increasingly politicised working class. The enormous optimism and unprecedented human progress defined the reign of King Edward, earning him the nickname 'Peacemaker' as a skilled foreign affairs adviser who drew upon his tact, understanding and sympathy to negotiate with other foreign rulers.


There was no denying King Edward enjoyed the finer things in life, his luxurious lifestyle and influence preceded his reign on the throne. During his rule, Edward renovated royal palaces reflecting his style and the fashion trends of British society.  He was infamous for being a playboy and a gambler and spent the majority of his time socialising with the extremely wealthy upper class.

Continental European fashion had an important impact, especially French fashion, referred to by many as La Belle Époque; the term used to describe the period between 1880 and the outbreak of World War I, characterised by optimism, peace, economic prosperity, technological and medical advancement and cultural innovation.


Architecture, fashion, art and jewellery styles were significantly different than previous periods, especially Victorian. Women's clothing trends saw a shift from heavy fabrics and sombre colours. Corsets were less restrictive in order to create a S shape which was becoming increasingly popular. Hemlines and necklines were also changing. Waistlines were higher, hats with feather trimmings and lace up boots were the fashion.  Overall, women were embracing sophistication and youthfulness as they had never before.


Worn by Queen Maud of Norway circa 1910-1913
(Credit Enchanted Serenity Period Films)


Jewellery design and craftmanship during the Edwardian era was largely influenced by King Edward himself. His love of all things expensive and decadent saw an overwhelming demand among the elite for elaborate yet pretty and well-made pieces by expert craftsman using valuable and long-lasting materials. During the beginning of the 19th century, the explosion of the Industrial Revolution meant for the first time in history, jewellery could be mass produced. However, by the end of the century (known as the fin de siècle) consumers had begun to refuse the idea of mass productive in favour of delicate, hand crafted jewellery.



Superb Antique Emerald & Diamond 'Navette' Style Ring
(Now Available)

Jewellers began embracing the Arts and Craft movement; a return to handmade jewellery that allowed for self-expression, creativity and artistic merit.  This ornamental style of art is referred to as Art Nouveau; a distinctive stylistic approach that embraced long, sinuous organic lines drawing inspiration from Eastern cultures particularly Japan (Japonisme). 
Popular materials included Platinum, a metal that up until the beginning of the 1900s had been almost impossible to work with due to the temperatures required. In 1903, the invention of the Oxyacetylene torch allowed jewellers to achieve the desired temperature.  The use of laurel wreaths, knots, bows and ribbons became popular across every type of jewellery. Diamond and platinum brooches perfectly complemented the fashions of the day. Bows were more popular than ever, featuring on everything from brooches to rings.
Edwardian pierced platinum pendant designed as a circular openwork plaque comprising of floral diamond set motifs and delicate millegrain settings with removeable brooch fitting, English, circa 1910.
(Credit Diamonds in the Library)
Another popular motif were insects, in particular dragonflies and butterflies.  Plique-à-jour (where the enamel is applied in cells, similar to cloisonné) enamel was used to provide colour, light and bring to life these little creatures.  In terms of gems, opals and moonstones were well suited to this new artistic style. Amethysts which had been a favourite stone of the Queen continued to be a popular choice so to were Peridots and Pearl.  Diamonds of course continued to be a defining feature and it would appear more the merrier.


Changing necklines for women's fashion allowed for beautiful chains suspended with delicate pendants (otherwise known as a Lavalliere). Long ropes of pearls or beads known as Sautoirs were extremely elaborate and long chains worn at full length falling past the waist was indicative of 19th century fashion.



Antique Late Victorian / Early Edwardian Amethyst Seed Pearl 9ct Pendant
(Available)

Rings were a major feature, bow and garland motifs with large centre stones were highly popular so to was stacking multiple rings; the bigger the better! Floral designs were very influential during this period, it was typical to find artistic expression used in jewellery making. Rings featuring ornate floral, decorative design were popular choices and are as sought after today as they were 100 years ago!



(Credit Vandenbosch UK)


Despite its influence, the Edwardian period came to an abrupt end with the death of King Edward in 1910.  Life as society knew it was on the verge of changing forever; the once opulent and carefree nature was soon to be replaced by the challenges and tragedy of the pending First World War. Jewellery, once a major part of society and fashion would disappear almost overnight.  The pieces that have survived over the past 110 years are a testament to the impeccable craftsmanship of the era, deserving of every accolade. A true collectors dream!


Modern English History: The Edwardian Era (1901-10)
A Brief History of Edwardian Jewellery

Edwardian Jewellery 1910-1915