Art Deco; The Rise of Modernity With A Touch Of Sophistication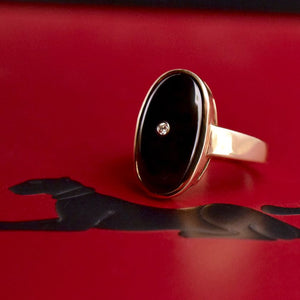 The inspiration for this week's blog came from one of our recent purchases, the classic and ever so elegant Onyx & Diamond Art Deco 'Style' ring; a homage to a decade filled with opulence, extravagance and a new found aesthetic which would significantly influence visual arts, architecture and design.


Art Deco first appeared in France just before World War 1, taking its name from the Exposition Internationale des arts decoratifs et industriels modernes (International Exhibition of Modern Decorative and Industrial Arts) held in Paris in 1925, short for Arts Décoratifs. Art Deco was influenced by the bold geometric forms of Cubism (avant-garde movement); referred to as the most influential art movements of the 20th century and the Vienna Secession movement (closely related to Art Nouveau period).   Other important influential styles also contributed to the period, represented by the luxury and exuberance of the architectural design. The skyscrapers of NYC, the Chrysler Building and the extraordinarily opulent movie palaces built during the 20s and 30s are incredible examples of the clean lines, rectangular forms and what became known as the Streamline Moderne; characterised by rounded corners, long horizontal lines and quite often nautical features.



Decoration and motifs during this period underwent a significant evolution, originally drawing inspiration from the bright colours of the artistic movement known as Fauves (characterised by strong colour opposed to realism), expressed through particular material choices such as sharkskin, mother of pearl, ivory and painted wood. In the late 1920s and 30s, the decorative style began to evolve, inspired by new materials and technologies.  Sleeker design choices were favoured, new materials including chrome-plated steel, plastic, aluminum and bakerlite were being used readily in furniture and decoration.


An Art Deco Columbian Emerald & Diamond clip. 1930s
 (Bukowskis)
Textiles and fashion played an important role during the Art Deco period. Interior design featured brightly coloured garlands of roses and flowers, decorated walls, floors and furniture were customary. Fashion was heavily influenced by notable designers including Coco Chanel and Paul Poiret, streamline garments, straight lines and practicality popularised by Coco Chanel. The 'casual chic' look soon replaced the corseted and formal styles of the previous period.


When it came to jewellery, the Art Deco period epitomised the new found glamour and sophistication of the post war society.  The 'daring flappers' of the roaring 20s set against the emerging Jazz Age scene called for an evolution of the existing jewellery craftmanship.  The introduction of more colourful gems (rubies, emeralds and sapphires), an emphasis on very elegant and elaborate settings and the use of less expensive materials such as enamel, glass, horn and ivory became highly popular with jewellers and consumers alike. Many jewellers began using platinum over gold due to its strength and flexibility as well as its ability to set clusters of stones.  The Exposition of 1925 saw changes to the cut of diamonds; tiny rods or matchstick designs were popular and reminiscent of the architectural choices.  Admired jewellery styles included brooches, rings, clips and pendants, largely influenced by the emerging fashion choices. Sleeveless dresses inspired jewellers to create beautiful bracelets, some of which were worn on the upper arm and crafted using the most luxurious gems and materials such as black Onyx and Lapis-Lazuli. 



During this period Oriental and Egyptian and Indian motifs (made popular due to the discover of Tutankhamuns tomb) were also highly favoured.
Characteristic motifs included nude female figures, animals, foliage and sun rays, which appeared in many designs from jewellery to architecture.  Important formative influences included the Art Nouveau, Cubism (as mentioned) and the Bauhaus (school of design, architecture and arts in Germany from 1919-1933).  Art Deco and Art Nouveau are distinguished by notable differences in design; Art Nouveau emphasised motifs inspired by nature including flowers and florals whereas Art Deco was recognised by the use of geometric forms and expensive materials used.


Several very famous jewellery houses were established in Paris during this time including Cartier, Chaumet, Van Cleef & Arpels who were producing Art Deco inspired masterpieces for the very rich and famous.   Diamonds and onyx set in platinum and expensive enamels in the colours of the Ballet Russes were highly desired and were exhibited at the 1925 Paris Exhibition.



The Art Deco period certainly forged a glamorous and highly sophisticated society fascinated by the evolution of machines and a sense of new found freedom in a post war society. Although the style went out of fashion in most places during World War II, the late 1960s sparked a renewed interest in Art Deco design. In today's modern society, Art Deco continues to be a source of inspiration in such areas as decorative art, fashion, and jewellery design and is a highly collectable and sought-after period among avid collectors.
https://www.decolish.com/art-deco-jewelry-history.html