Semi Precious Gemstones: The Aesthetically Pleasing Amethyst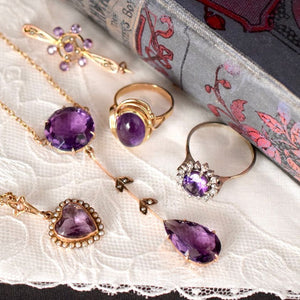 Amethyst has been highly regarded throughout history for its stunning beauty and mythological origins. A member of the quartz family, Amethyst is a crystalline quartz, owing its violet colour to irradiation, iron atoms and in some cases the presence of other trace elements. However, Amethyst may exhibit one or both secondary hues, red and blue.
Amethysts form as a crystal lining of cavities within basalt rock. The name originated from the Koine Greek word ametusthos, meaning, "not intoxicated"; legend has it that the stone would protect its owner from inebriation… Amethysts were worn and drinking vessels were carved from the stone.
As a result of its hardness, Amethyst became quite a popular feature in jewellery. The ancient Egyptians created beautiful engraved intaglios and a variety of beads and other ornamental objects were fashioned.   Amethyst has always been associated with February, the month the Romans dedicated to Neptune, their water-god and as a result became known as the February birthstone.
In terms of value, it is entirely dependant on colour. Siberian mines once produced the world's finest stones.  They featured a particularly rich purple colour that glowed with red and blue flashes. Today the term "Siberian" no longer refers to origins. Instead, this is now a trade and grade term referring to colours similar to those of the amethysts mined in Siberia.

Over time however, light-coloured Amethyst has enjoyed resurgence in popularity. 'Rose de France' is defined by its distinctly light shade of purple, reminiscent of a lavender/lilac shade. These pale colours were once considered undesirable but have recently become popular due to intensive marketing.

Given the increasing popularity of Amethysts, we have begun to amass a lovely collection of antique and modern pieces available for purchase.   One of our most priced pieces is a stunning Natural Amethyst & Seed Pearl 9ct Gold Lavaliere by Joseph Lawrence, one of Australia's most iconic jewellers. Featuring 2 incredibly large Amethysts (Amethyst #1 approx 10.53 carats and Amethyst #2 approx 8.36 carats) this is a true collectors piece!
If rings are more your style then you cant go past our lovely 18ct Gold Step – Cut Amethyst ring, a recent addition to the family. Handcrafted around 1920-40, the Amethyst is a step cut, set in a beautiful scrolled setting with ornate bead to each shoulder. The Amethyst is 1.60ct and is of a deep lush colour, possibly Siberian.
For more photos and details be sure to check out our website!