Antique Paste Jewellery: Are diamonds really a girls best friend?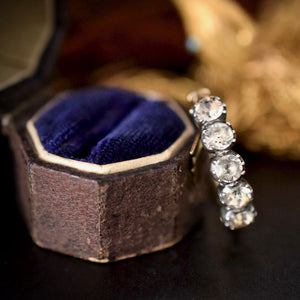 Paste jewellery was one of the great marvels of the seventeenth and eighteenth century, allowing the creation of relatively affordable pieces that were popular among the most fashionable women of the day.
Pastes were not considered mere faux gems but rather gorgeous jewels in their own right. In 1675, George Ravenscroft developed a hard lead glass, which was quite popular however in 1734, M.Georges-Frederic Stras of Paris added a high lead content allowing the stone to withstand a high polish. The result was a brilliant stone, cut and polished into almost any shape, often foiled back; either with silver, colourless or coloured foil, to add extra light, depth and brilliance to the piece. This technique was so well done that it was almost impossible to tell the difference between a paste stone and a diamond under candlelight!
 Stras was famous for inventing the Rhinestone, the result of coating the lower side of lead glass with metal powder (often referred to as 'Strass' in much of Europe) and notably went on to become the 'Kings Jeweller' in 1734 (King Louis XV of France).
 In addition to its affordability, paste was used to replicate genuine gems among those who feared their jewels could be stolen especially during travel by highway robbers. This clever substitute only increased the popularity of Paste among socialites.
'Queen Anne' jewellery (C.1725-1750) not to be confused with the reign of Queen Anne (1695- 1714) was ideally suited to the properties of paste. Necklaces were usually mounted in gilt metal while their collet-set pastes were faceted as rose cuts. In the early to mid eighteenth century paste stones began to feature a black dot in the centre to imitate the culets of old cut diamonds.
During the Victorian Era (1837-1901), pastes were used in pieces to convey coded messages of romance, based on the colours of the pastes. A Regard ring was set with specific gemstones; Ruby, Emerald, Garnet, Amethyst, Ruby and Diamond and were very popular sentimental tokens. Other acrostic pieces included, Dearest, Adore, Love Me and Forever.
Paste jewellery remains incredibly popular today despite its rarity. Due to its low level durability, paste stones are often damaged, scratched or chipped, making it particularly hard to find in good wearable condition! The moral to this story is.. if you are lucky enough to find a spectacular piece hold on to it!!
Georgian circa 1800 15ct Gold Five Stone Half Hoop Ring (Sold)