History of Hallmarks: A Guide To Identifying and Interpreting Jewellery Hallmarks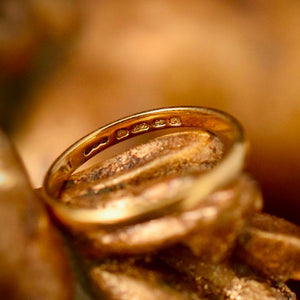 If you are anything like us, you will appreciate the history and allure of hallmarks, whether they are gold or silver. The origins of jewellery hallmarks date as far back as 1238 AD, where the first standards of fineness for gold and silver were officially proposed.   It was not until 1300 however that hallmarking as we know it was introduced by Edward I who declared that "no piece of silver was to depart without being assayed (tested) and marked with a leopards head". The 'Guardians of the craft' were responsible for assaying work and applying this hallmark, ensuring that silver was of the sterling standard (92.5% pure silver) and gold was the 'touch of Paris' (19.2 carats). Goldsmiths outside London were also supposed to keep to the same standards.

As the years went by, further regulations and developments saw the introduction of a charter by King Edward I to the 'Worshipful Company of Goldsmiths' headquartered in London at the Goldsmith's Hall. The term 'hallmark' originated here. In 1363, Edward III established the maker's mark, required alongside the leopard's head to identify the goldsmith responsible for making the piece.

Over the ensuing centuries, changes continued to take place including the introduction of the leopard's head with a crown to differentiate old and new plate, addition of the date letter and changes to the gold standard to 22 carat in the 16th century. Many changes continued throughout the 17th and 18th century, in particular to the format of marker's marks, the introduction of a sovereigns head or 'duty mark' in 1784 to denote a new duty on both gold and silver as well as the establishment of formal assay offices in Birmingham and Sheffield in 1773. In 1854, 9, 12, and 15 carat gold were introduced, indicated by marks denoting their actual fineness. By end of the 19th century, tax on gold and silver plate was withdrawn and the sovereigns head disappeared.

Today, jewellery hallmarking, alongside all hallmarking is governed by the Hallmarking Act of 1973. For jewellery collectors and history buffs, researching the origins of our beloved pieces is half the fun! Typically, today's jewellery will contain the following hallmarks:
The Standard Mark - The fineness of the metal
The Assay Office - This symbol shows which Assay Office tested and marked the item
The Sponsors Mark - unique mark of the company or person responsible for sending the article for hallmarking.
Prior to 1998, a Hallmark consisted of four compulsory marks which did include the date letter. Since 1998, the date letter has become an optional extra.

Australian Hallmarks

Prior to the 1850s, jewellery was imported to Australia from the UK and Europe. During the gold rush however, jewellers begun designing jewellery incorporating Australian fauna and flora as a way to distinguish their work from traditional European influences.

Prior to 1889, Australian jewellers were not required to stamp their jewellery. In 1889, the Manufacturing Jewellers Association of Victoria was established and members were required to apply three guarantees to their work, the maker's mark, a quality mark in carats (15ct), and a symbol (a sheaf of wheat represented 9ct, for example) guaranteeing the quality of material and workmanship. The 15ct symbol was a hanged sheep and the 18ct symbol was a sailing ship.

The late Victorian era was an incredibly influential period in Australian jewellery. Notable jewellers such as Aronson & Co, Willis & Sons and Robert Rollason were among the many leading highly sought after jewellers.  Little did they know that their jewels would become incredibly collectable and sought after for centuries to come!

For more information about the origins of hallmarking be sure to check out this link