Engagment Rings; Symbolism, Style & The Stories They Could Tell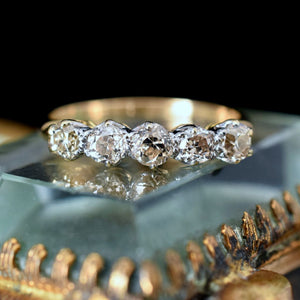 Antique engagement rings; A precious reminder of bygone eras.   The amazing stories these pieces could tell, evoking an emotion for a period in time we still find so enchanting today.
While not all designs have remained popular throughout the decades, there are classic designs choices that have lasted the test of time, with a resurgence in popularity for those longing for sustainable, antique and vintage engagement rings.


From Queen Victoria's snake engagement ring, designed by Prince Albert, to beautifully carved half hoops, engagement rings have long been a powerful symbol of love and unity.


Engagement rings can be traced all the way back to Ancient Rome.  Ivory, flint, bone, copper and iron were worn as rings to signify a business contract or to affirm mutual love and obedience.  Gold rings were later found in the ruins of Pompeii, a sign that metal would became the material of choice in the common era.


It wasn't until 850 that the engagement ring was given an official meaning. The first time diamonds appeared on an engagement ring was in 1477 when Archduke Maximilian of Austria proposed to Mary of Burgundy.  


In the 1700s, Posey rings were a popular choice; a symbol of loyalty between lovers. Inscribed on the inside and outside were poems from the heart, usually in French or Latin. Today, Posey rings are incredibly scarce to come by and are highly popular among serious collectors.
During the 1800s,  Rose-cut diamonds were developed and became a popular choice. Hearts and clasped hands were also a fashionable choice, sometimes both at the same time, two hands clasping a heart was a typical engagement or wedding ring at the time.


Towards the turn of the 20th century, the Edwardian period saw a transition in jewellery design, taking on more ethereal and feminine features.  


Platinum mixed with yellow gold was the precious metal of choice and jewellers began experimenting with new techniques such as millegrain, adding a level of detail not previously seen. Popular designs included cluster 'daisy' rings, featuring a 'cluster' of old-cut diamonds.  This particular design choice has lasted the test of time with many brides-to-be opting for clusters of magnificent diamonds.
Antique Victorian 18ct Yellow Gold Old Mine Cut Diamond Half Hoop Ring 0.90ct(Available now)
With a scrolling 'carved' gallery which is one of the prettiest and finest we have seen and set with five old mine cut diamonds in slightly graduated fashion, all claw set mostly in platinum. A very interesting and beautiful detail to this ring is the two end diamonds outer 4 claws are yellow gold, allowing for a smooth transition to the yellow gold shoulders.
Entering the Art Deco period (1920-1935), saw a modified take on the typical engagement ring design, incorporating the geometric patterns,  crisp lines and angular shapes that became a dominant design feature.  During this period, 'Toi et Moi' rings were a very popular choice.  Representing 'you and me' as translated from the French language,  this design was and still is a wonderful symbolism of two souls becoming one.
Antique Art Deco 18ct And Platinum Diamond 'Toi et Moi' Ring Circa 1905
(SOLD)



Antique 18ct White Gold Quarter Hoop Diamond Ring 0.58ct
(Available now)
As the years went by and with the coming of World War II, platinum would become a very scarce commodity, it would be years post war until platinum was more readily available.  Some countries banned jewellery manufacturing altogether and in Britain only "utility" wedding rings of 9 carat with a weight not to exceed two pennyweights (Lang antiques) were permitted.   For this reason, engagement rings were mostly made in yellow gold which definitely didn't detract from the beauty of deign during this period.  


By the 1950s, the jewellery industry was back to pre-war business, Platinum was available once more and the fashion called for an 'all white' look.  Larger, centre diamonds were a popular style choice, often set with smaller side stones and illusion settings were commonly used to accentuate the centre stone for affordable jewellery everyone could attain.  
As decades passed, so did the style of jewellery, engagement rings were no exception.  The 1960s would see solitaires and or single diamonds with stones either side for a nice trilogy setting and coloured stones influenced by Jackie O and Elizabeth Taylor were fashionable choices.  By the 1970s, engagement rings had taken on a completely different style.  Three-dimensional clusters as opposed to classic solitaires were popular so too were unusual designs using angular baguettes. 


Fast forward to the 21st century, yellow and rose gold continue to be a popular choice, with oval, round and cushion-cut diamonds being a fashionable option.  In terms of antique and vintage rings, there is a growing trend to purchase sustainable jewellery, a nod to a time where attention to detail and superb craftsmanship was of the highest importance.  

References

https://www.thevintageringco.com/pages/vintage-engagement-rings-through-the-eras

https://erstwhilejewelry.com/blogs/stories/history-of-engagement-rings

https://www.langantiques.com/university/engagement-rings-a-backward-glance/