Early Australian Jewellery Part 4: Exploring Larard and Son/Larard Bros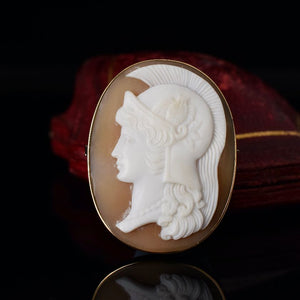 Continuing our theme of early Australian Jewellery, we explore the firm of Larard and Son/Larard Bros; manufacturing goldsmiths and jewellers founded in 1874.  We have been very fortunate to have sourced several Larard pieces, one of which is available in our early Australian collection.  Of the early Australian pieces, we have offered, Larard and Son/Larard Bros is not one that we often see, making these pieces quite special and highly collectable.


Currently available is our stunning 15ct Rose Gold 'Minerva' Cameo, an impressive and large example of what we believe is Male King Helmet Shell.  With wonderfully clear and crisp hallmarks to the verso, this highly collectable piece would complement any collection or perhaps become a family heirloom?


Antique Australian 15ct Rose Gold 'Minerva' Cameo by Larard Bros Circa 1900
(Available now)
We look back at the Larard and Son/Larard Bros pieces we have had the pleasure to offer over the past 2 years while exploring the history of this firm and their influence on the early Australian jewellery industry.


One of the most striking Opal rings we have had the pleasure to offer, set uniquely in a 'gypsy' style, 6-pointed start setting featured three cabochon Opals emitting a lovely soft
greenish blue colour play with an almost rainbow pattern.  With that old rosy gold hue only seen in antique jewellery, we were so happy to find this stunner a wonderful home!
Antique 9ct Rose Gold Opal Ring by Larard Bros Circa 1912
(Sold)

One of our favourite finds and one that we fell in love with was this gorgeous 18ct Gold Diamond 'Gypsy' ring, styled with three old European cut diamonds, bead set with star grooved pattern surrounding each.  Smooth and buttery, this ring felt wonderful on the finger, with lovely bright diamonds and clear and crisp hallmarks this ring was in such wonderful condition for its almost 120 years of life!
Snapped up very quickly which was not surprising given its wearability and of course the fascinating history.  We were sad to see this one go but were really happy to know the new owner loved early Australian jewellery as much as us!
Last, but certainly not least, was the absolutely stunning and pristine Victorian 18ct Yellow Gold Natural Half Pearl Ring by Larard and Son/Bros (circa 1890-1900).  This was one of those
'never-to-be-seen-again'
type pieces that conjured a little sellers remorse before remembering just how thrilled we were for the new owner! Combining everyone's favourite half-hoop style with the brilliance of early Australian jewellery craftsmanship at its finest!
Superb Victorian 18ct Yellow Gold Natural Half Pearl Ring by Larard and Sons circa 1890-1900
(Sold)
History

John Larard arrived in Melbourne in 1854, and by 1873 he had established business as Larard and Son.  At the time, Larard was apprenticed to James Murray, of Bourke Street Melbourne. On the death of his father, John and his younger brother took control of the business which in 1881 became Larard Bros, still at 42 Little Collins Street East.


Larard Bros were wholesale jewellers and importers as well as manufacturers. They produced quality jewellery, diamond mounting being a specialty. Their range of gold jewellery including rings of all descriptions, alberts, muff-chains, masonic jewels and medals. They were among the more enterprising of the Melbourne manufacturers who designed and produced goldfield brooches for the market in Western Australia.


Larard Bros were members of the Victorian M.J.A (Manufacturing Jewellers Association) from its inception in 1889. Their mark, a "Five-pointed Star with Bar" was used in conjunction with the M.J.A stamps. John Larard who had retired in 1906, died in 1938 at the age of 86 years. The firm continued to trade as manufacturing jewellers at Sugden Place, off Little Collins Street until 1945.


Reference:
Australian Jewellers: Gold & Silversmiths Makers & Marks. Cavill, Cocks & Grace