Early Australian Jewellery Part 3: Exploring Duggin and Shappere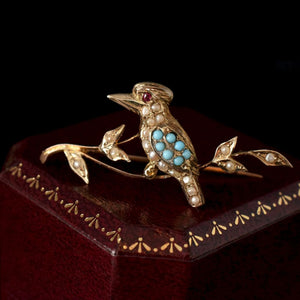 As avid collectors of early Australian jewellery, we often become quite attached to the gorgeous pieces we have the pleasure of offering such as the very iconic Kookaburra by Duggin and Shappere (below), embellished with natural cabochon-cut Turquoise and natural Seed Pearls with a very sweet tiny faceted Garnet for his eye. We were thrilled to find him a new home in the USA; a keepsake to remind its new owner of home.  


Previously we were very lucky to have found his little friend, an equally as sweet handcrafted frog, set with Persian Turquoise, Seed Pearls and of course cabochon Garnets for his eyes.  Needless to say both of these iconic pieces were snapped up super quick.  


However, who could forget the most incredible late Victorian/early Edwardian 15ct gold, Peridot and half Pearl Coat of Arms of Ireland Harp Brooch that we found a wonderful new home for late last year?  All of these pieces were handcrafted by Duggin and Shappere, beautifully hallmarked with their trademark 'Anchor' in conjunction with guarantee marks of the Manufacturing Jewellers Association of Victoria.  
Antique Early Australian 'Duggin & Shappeare' Turquoise Seed Pearl Brooch
(Sold)


Antique Australian 9ct Gold Turquoise Seed Pearl Brooch By Duggin And Shappere Circa 1910

(Sold)


History of Duggin and Shappere


Founded by H Duggin & P Shappere in 1896, Duggin, Shappere and Co. were one of the major jewellery manufacturers operating in Australia throughout the first quarter of the twentieth century.


Originally located at Howey Place off Little Collins Street, Melbourne, they would move premises (within the city) during the course of their operation before finally settling at 343 Little Collins Street where they continued until 1932.
Unfortunately, like many businesses, Duggin & Shappere were victims of the Great Depression, as from 1929 they were no longer listed in directories as a manufacturing jeweller.


Despite this, the company were certainly influential, leaving a long lasting mark on the jewellery industry. Their designs made considerable use of seed pearls and they were renowned for their signature brooches and pendants.


In addition, diamonds and opals were often a focal feature. Harry Duggin produced many distinctive Australiana designs including the "O'possum" and Kookaburra". Duggin and Shappere's mark, an 'Anchor', was used in conjunction with the guarantee marks of the Manufacturing Jeweller's Association Victoria.
Late Victorian Early Edwardian 15ct Gold, Peridot And Half Pearl Coat of Arms of Ireland Harp Brooch Circa 1915

(Sold)


If you are lucky enough to come across a piece by Duggin and Shappere (look out for those anchors not to be confused with the Birmingham anchor) then be sure to hold on to it! These early Australian pieces are only becoming much harder to find and certainly more valuable as time goes on.
References
Australian Jewellers: Gold & Silversmiths Makers & Marks. Cavill, Cocks & Grace