Exploring Early Australian Jewellers; A History of Jochim Wendt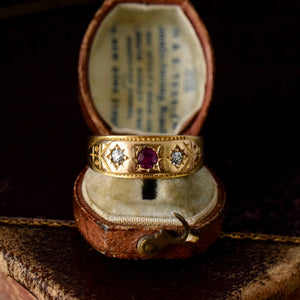 This week's blog post is inspired by not only our love for early Australian jewellery (no surprise there) but the small obsession we have for gold bands! Wide, thin, floral/engraved and jewelled, we simply cannot get enough lately, and it appears we are not alone! We receive quite a few enquiries a week for these beautiful antique bands, they are becoming quite hard to find especially in really lovely antique condition. One of the biggest issues we find especially with floral and other engraved examples is that with time they can become quite worn (but then again, they are sometimes 100 + years old!).


Antique 18ct Yellow Gold Ruby Diamond Ring by Wendt Circa 1900(no longer available)
Recently,
we were very fortunate to find this exquisite example crafted by Jochim Wendt, who was a very influential early Australian jeweller.  This ring is set in
18ct Yellow Gold featuring a divine Ruby and Diamonds circa 1900. We were thrilled when one of our lovely customers feel in love with it as much as had!
Not only do we enjoy buying and collecting early Australian jewellery, but we also equally enjoy researching and learning about the maker (s).  Below is an interesting overview of Jochim Wendt, we hope you enjoy!

History of Jochim Wendt


Jochim Wendt was born in Denmark in the province of Schleswig-Holstein, which had been subjected to civil war as a consequence of Prussia's drive to incorporate the province in the emerging German nation.
These events led to his decision to emigrate. J.M Wendt was a trained watchmaker and jeweller and upon arrival in Adelaide in 1854, he set up a business in Pirie Street at the young age of 24.


Not long after his arrival he moved to Rundle Street, where from 1860, a large clock was to identify his premises. Jochim Wendt was to profit from his ability and industry, and indirectly from the booming gold discoveries. By the mid 1850s, successful miners were returning to South Australia from Victorian diggings to acquire pastoral and agricultural holdings.


By the 1870s, the premier retail jewellery establishments were those of J.M. Wendt and Henry Steiner. In 1872, Jochim married Johanna Koeppen who had been widowed with four children.  The eldest son, Herman, would enter the business and subsequently took on the Wendt surname. By 1880, the firm was located at 70 Rundle Street and these premises (while renumbered) have been occupied by Wendts to present day.


J.M. Wendts, in collaboration with Julius Schomburgk produced fine presentation silverware. As one of the leading retail establishments in Adelaide, Wendts also displayed much imported jewellery and silverware. However, it is the locally produced jewellery that is of current interest.


Their colonial jewellery in gold, displayed at the Sydney International Exhibition of 1879 was reported as showing excellence, Wendt being awarded a First Degree of Merit for Jewellery and Silverware.  Wendt did not exhibit at the Adelaide Exhibition of 1881, rather he offered his business for sale in September of that year. J.M Wendts' notice in the Adelaide Observer stated, '…retiring from business, genuine clearing out sale..'.



Wise's South Australia P.O Directory 1895
'Australian Jewellers - Cocks, Cavill, Grace'

Despite significant prosperity and wealth during the 1860s and 70s in Adelaide, widespread drought in the 1880s lead to significant downturn in the South Australian economy. The effects were soon observed, not least in the jewellery trade. However, it was Henry Steiner and not Jochim Wendt who would be forced to close.
By 1895, Wendts were predominantly manufacturing jewellers and importers, a sign of the changing styles and time. No longer would they exhibit silver.
In 1903, Herman Koeppen Wendt, Jochim's step son, became a junior partner and upon the death of J.M Wendt in 1917, H.K. Wendt would
become the sole proprietor.
Over the next several decades, further changes to the business would see Herman's eldest son Alan, enter the business and become sole proprietor in 1938. In 1947 the firm became a propriety company under the direction of Alan K Wendt and his son Peter K Wendt.


In 1954, Wendts Jewellers Pty Ltd was specially commissioned by the South Australian government to design and make an elaborate necklace and matching earrings for presentation to H.M Queen Elizabeth II in a large white opal (203 carats) then in the government's possession. The making of this opal and diamond necklace was especially propitious, as it coincided with Wendts celebration of their first centenary of trading.



Antique Solid White Opal Ring 'by Wendt' circa 1920
(personal collection)

References:

'
Australian Jewellers - Cocks, Cavill, Grace
'