Arts & Crafts Movement: Preservation of Craftmanship, Artistry & Design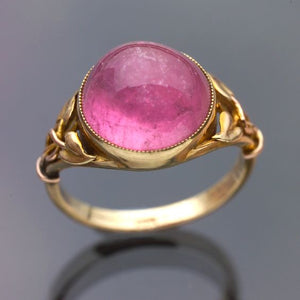 New Year, new blog! We welcome back our followers, customers, friends and everyone who supported our small business during 2020! We are so excited for what we hope will be a big year for Graisons Fine Jewellery!  


This week's blog post was inspired by one of our recent acquisitions; our gorgeous and ever so popular Antique 9ct Rose Gold Wide Wedder/ Band Dated 1892. These bands have become highly sought after and are fast becoming very scarce to find, especially in such wonderful condition. Not to be biased, but this particular band is our favourite in our current collection; we are quite partial to rose gold and the tiny perfect rosettes and cross hatch motifs only adds to the beautiful craftmanship.  Dated for Birmingham 1892, only the slightest of wear can be seen to the pattern which is noted for accuracy.  The hallmarks are so clear and crisp- it is no secret that we often purchased jewellery just for the hallmarks, they can tell such interesting stories!! and at 7.5 mm wide, this band is one of the biggest we have had!



Antique 9ct Rose Gold Wide Wedder/ Band Dated 1892
Available now

The most interesting detail, and thus the theme for this week's blog, is the engraving; reminiscent of the Arts & Crafts Movement.
The Arts & Crafts Movement emerged in the United Kingdom around 1860 in response to the growing Industrial Revolution.  Critics of the Revolution sited the emergent mechanisation of society which was contributing to the mass production of goods including jewellery.  One of the main influences of the Arts & Crafts Movement was artist and medievalist William Morris.  Morris recruited several designers and founded the design firm of Morris, Marshall, Faulkner & Co to recreate manual craftsmanship in the era of mass production. The term 'Arts & Crafts' was first used by T.J Cobden-Sanderson at a meeting of the Arts & Crafts Exhibition Society in 1887 despite the principles and style emerging in England for at least 20 years.


MURRLE BENNET & CO.
Arts & Crafts Ring Gold Tourmaline. British, c.1900.
(not for sale)


When it came to jewellery design, the Movement sought to celebrate artisans and guilds, moving away from the tradition of mourning jewellery, introducing motifs and undulated lines, turquoise, pearls and cabochon stones rather than cut stones and the use of silver, aluminum and cooper over expensive gold. An abundance of necklaces, buckles, brooches and hair slides adorned with foliate and naturalistic motifs.  Insects, shells and other objects from nature were a welcomed addition, representing the move towards more contemporary, artistic craftsmanship.


MURRLE BENNETT & CO.
Jugendstil Style Opal, Demantoid, Gold Bug Brooch
c.1902.
Photo Courtesy of the Tadema Gallery
(not for sale)


Following the 1862 International Exhibition (or Great London Exposition as it is also referred), Japanese decorative objects became extremely desirable. New trade links with Japan and the influence of the Far East (including the Middle East and India) were evident in the use of innovative mixed metals, design elements, techniques and materials. Not only was this change influential to the Arts & Crafts but also to the overlapping Art Nouveau, Edwardian and Belle Epoque styles/period. Wirework was a particularly common theme during this period, allowing the 'artist' to become quite creative and intricate in their design. Bright colours were also a favourite, a welcome change from the dark and sombre mourning jewellery. 


Hand painted enamel added a further 'naturalistic' touch to the jewellery design of the era, many artists incorporated leaves as an individual design element, often interpreted as the makers identity. It was common for the craftsman to complete the design from start to finish, however, this proved to be both a timely and costly decision.  Despite all good intentions to create pieces for a mass audience, jewellery of this era was generally afforded to the elite; those who appreciated the style and craftsmanship required to create such unique pieces.   



GEORGES FOUQUET.
18 Karat Gold, Colored Stone, Diamond and Enamel Pendant-Brooch,
Circa 1910
(not for sale)

In order to fill this gap in the market, several manufacturing firms begun creating a mass production of jewellery that ticked the Arts & Crafts boxes of being aesthetically pleasing yet manufactured en masse.  One such firm who were highly influential was Liberty & Co, relying largely on the designs of Archibald Knox, a Manx designer of Scottish decent who was well known for his Tudric (pewter) and Cymric (precious metals) range. Knox would be remembered for his prolific work, combining the Arts & Crafts Movement, Celtic Revival (a common theme among his designs), Art Nouveau and Modernism. 
LIBERTY & CO. London.
Enamel Belt Buckle, Birmingham 1899.
(not for sale)
It is important to note that during the Arts & Crafts era, related movements were occurring in Germany (known as Jugendstil) and the Vienna Succession (Austria).  Each movement relied on its own influence, artists and firms to produce jewellery of similar design.  The United States also jumped on board, influenced by British designers. Arts & Crafts Societies were created in Boston, Upstate New York and Chicago. Designs were slightly more subdued, and it was common to see paper-clip chains and hook and loop claps used.
Despite the guild movement disappearing after the WW2, individual artisans continued to create jewellery of this nature, adapting to changing jewellery trends and lifestyle that was slowly transitioning to what would be known as the Modernist Movement of the late 19th and 20th Century.  In today's antique jewellery market, both Arts & Crafts and Art Nouveau pieces are incredibly popular and very scarce. If you are lucky to come across an original piece, we strongly suggest hanging on to it!!



HENRY WILSON.
Arts & Crafts Opal, Demantoid, Gold Ring, c.1900.
Photo Courtesy of the Tadema Gallery.

https://www.langantiques.com/university/arts-crafts-era-jewelry/

https://www.vintage-antique-jewelry.com/antique_jewelry/arts_and_crafts_jewelry.html

https://en.wikipedia.org/wiki/Arts_and_Crafts_movement