Mourning Jewellery: The History, Symbolism And An Exciting Discovery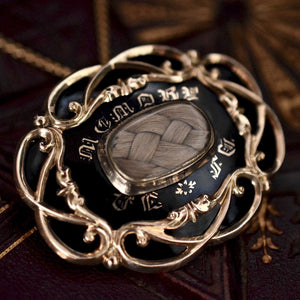 The Victorian era (1837-1901) brought about a significant change in the symbolism of mourning jewellery; it became less macabre than its Georgian period counterparts and instead began to focus on the memory of the individual, marking a passage of life.   The popularity of mourning jewellery during this period attributed greatly to Queen Victoria, who, upon the loss of her husband Prince Albert in 1861, fell in to a long depression and spent the next four decades wearing black crepe dresses and mourning jewellery. As a result, wearing mourning jewellery became highly fashionable.
In terms of craftsmanship, mourning jewellery of this era included several motifs that would become symbolic of the period such as crosses, anchors, wreaths and flowers. Black onyx, jet, amethyst, garnet and golds were popular as to were pearls which were considered to symbolise tears shed by loved ones.
By the 1830's, the inclusion of plaited hair or hair works in mourning jewellery and sentimental pieces was particularly popular, allowing loved ones to commemorate and hold close a loved one that had passed away or was far away, symbolising friendship, love and remembrance. Victorians also believed hair jewellery symbolised immortality.
Mourning jewellery was crafted in many styles notably hair pins, tie pins, rings, lockets and brooches. 'In Memory Of ' was a particularly popular statement and was often used for brooches. Typically, brooches would be worn at the neck or bodice, allowing the 'In Memory Of' statement to be clear and visible. The inclusion of the Rococo detail to the design throughout the Gothic Revival period can be seen in the example below as to can the use of Gothic Script. The woven hairwork is also a feature of this design choice as opposed to later work that often included a simple twist of hair.
This incredible brooch has become part of our personal collection after many hours down the rabbit hole uncovered some great historical details of the little boy and his family.
Charles Adolphus D'Auvergne
Charles was the youngest son of 6 children to Philip D'Auvergne and Henrietta D'Auvergne (nee Fixott). The family resided in Jersey, which is officially known as the Bailiwick of Jersey, the largest of the Channel Islands between England and France.
I originally found his baptism record dated the 2nd of October 1856 that led me on this great adventure! Charles tragically passed away on the 6th of August 1859 at the age of just 3. I discovered details about his siblings including a picture of the headstone where his parents and two of his siblings are buried (including what I believe to be four relatives) at Saint Ouen's Churchyard in St Ouen, Bailiwick of Jersey.
In an extract I discovered, his father Philip is listed as an Esq though I am having trouble finding information about him. There was in fact another Philippe D'Auvergne, sovereign Duke of Bouillon but I am yet to find any connection between the two.
His parents were married quite late in life for the era (40 and 30) on the 28th of May 1845, there first daughter also Henrietta was baptised in 1846!. Philip D'Auvergne passed away on the 19th of March 1873 and Henrietta in 1899.
The brooch is in wonderful condition, tests as 9ct gold, the hairwork is in perfect condition, inscription is clear crisp condition and a small bale has been added at some stage. It is a great size measuring 5 x 2.5 cm.
It is always so fascinating to find the history of these incredible pieces, imaging the families and lives lead of those remembered! This one will be definitely loved!.