Calling all Turquoise Enthusiasts!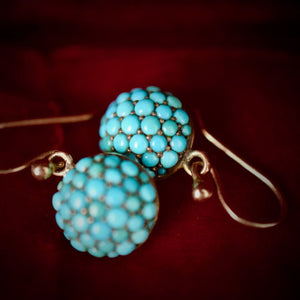 Turquoise; one of the world's most ancient gems and oldest documented histories is as popular today as it was nearly 5000 years ago. Having formed some 30 million years ago, Turquoise was the product of water passing through a host rock leaving behind deposits of copper, zinc and aluminium, rarely deeper than 100 feet below the surface. While blue is the most traditional and well-known colour of turquoise, geologists explain that turquoise derives it colour based on the level of copper present. Other colours include green, which is formed in the presence of iron while whiter shades are created by adding aluminium. Yellow-green is the result of great amounts of zinc. Overall the depth of the colour generally determines value and or higher grade.

Turquoise is found in dry, arid lands with primary deposits located in countries such as Egypt, Iran, China, Chile, Mexico and the United States. The oldest known turquoise mining deposit is believed to be the Maghara Wadi mines located in the Sinai Peninsula (Egypt).   Archaeological excavations revealed that the rulers of ancient Egypt adorned themselves with turquoise jewellery and Chinese artisans were carving it more than 3,000 years ago. Turquoise is the national gem of Tibet, and has long been considered a stone that guarantees health, good fortune, and protection from evil.

In North America, the Hohokam and Anasazi people first mined turquoise in 200 BC. These early Native Indians mined the famous Cerrillos and Burro Mountains of what is now New Mexico and in Arizona the Kingman turquoise mine and Morenci turquoise mine.
ARIZONA TURQUOISE JEWELRY
Arizona is renowned for their turquoise mines. The Kingman turquoise, Bisbee turquoise and Morenci turquoise mines are open pit copper mines where they are actually just a bi-product of copper mining.
The Sleeping Beauty turquoise mine is located in the Globe-Miami mining district just east of Phoenix, Arizona. The beautiful robin's egg blue of the Sleeping Beauty turquoise gem is popular and found in silver jewellery, south-western jewellery, Navajo jewellery and Zuni jewellery. Sleeping Beauty turquoise jewellery is the blue turquoise jewellery that most people associate with turquoise.
 NEVADA TURQUOISE JEWELLERY
 Nevada Turquoise mines became the top producers in the 1980s, the Number 8 mine, Lone Mountain, Blue Gem and the famous Lander Blue Turquoise mine which produced the prized spider web turquoise made up of small nuggets naturally cemented together with rock or matrix formed from other elements of the host rock.
 POPULAR CULTURE
 Queen Victoria, famous for her impeccable taste in fine jewellery had quite the soft spot for turquoise. History has it that she gifted each of her ladies in waiting with a portrait ring surrounded by cabochon-cut turquoise. During this period, it was quite common to see turquoise used in jewellery design such as brooches, necklaces and pave set in snake jewellery. Revered as a good luck stone, turquoise was even set in horses bridles to protect the animal and rider from falls.
In the mid 20s, the discovery of Tutankhamen's' death mask adorned with panels of turquoise inspired jewellery designers to create beautiful works using rich colourful stones set in gold fixtures.
 In the Twentieth Century, turquoise enjoyed another surge in popularity with the Native American jewellery revival that spanned the 1950's through the 1970's.
 Turquoise has continued its reign as a highly popular and sought after gem with collectors across the world due to the increasing rarity of finding good quality turquoise and the depleting mines. If you are partial to turquoise and want to start or add to a collection I would not leave it too late!